TAGS: Vending Supply, vending supplies, bulk vending, coin machine, coin-op, flat vending, vendable, vendible, temporary tattoos, stickers, Sugar Tattoos, novelty productions, back-to-school products, vending machine
PRESS RELEASE
Premier flat vending manufacturer announces new designs for back-to-school season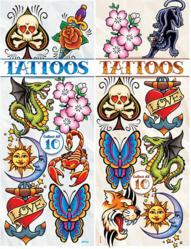 Tucson, AZ (PRWEB) August 30, 2012 -- Vending Supply has released exciting new temporary tattoo and sticker designs for the fall. The flat vending temporary tattoo and sticker manufacturer is expanding its most popular lines, just in time for back-to-school. Customers can take advantage of a limited-time back-to-school offer: free shipping on any online order.

"After our successful website relaunch this spring, we wanted to focus on giving our customers even more of their favorite product designs. So, our artists created new tattoos and stickers in our most high-demand lines: Ultra Tattoo Classics, Ultra Sticker Classics, and Sugar Tattoos," says Melissa Mouradian, Vending Supply business development manager.

The fall 2012 releases includes new designs for the following temporary tattoo and sticker lines:

» Ultra Tattoo Classics: These bold designs appeal to everyone: young and old, male and female. The new Ultra Tattoo Classics 14 series is full of vintage-style designs that will please a broad range of tattoo fans.

» Ultra Sticker Classics: Perfect for schools and kids' venues, these fun stickers carry through similar themes from the always-popular Ultra Tattoo Classics line. Many schools use sticker vending machines as successful fundraisers.

» Sugar Tattoos: Vending Supply has a strong reputation for having the very best girls' tattoos, and Sugar tattoos are a favorite every year. Tattoo fans love this unique line of inked glitter and pure glitter tattoos for girls of all ages. Vending Supply uses a unique glitter technology to create bright, eye-catching designs that last for days. Plus, there are 25 fun designs to collect.

Additionally, Vending Supply continues to produce popular Super Scented tattoos. The berry scent stays on the skin for three or more days. Vending Supply is proud to be the only temporary tattoo manufacturer that offers scented tattoos for sale in vending machines. All Vending Supply tattoos and stickers are made in the U.S. with nontoxic ingredients. All products exceed U.S., Canadian and EU safety standards and have a worldwide reputation for quality. Visit http://www.vendingsupply.com to take advantage of the back-to-school free shipping special.
---
About Vending Supply
Vending Supply is a premier manufacturer of US-made temporary tattoos and stickers for flat vending machines. Vending Supply is a division of TM International (TMI Acquisition LLC), the largest manufacturer of temporary tattoos in the world. The company designs and manufactures all of its products in Tucson, AZ and serves many markets. The company's products are sold under the SAVVi, Tattoo Manufacturing and Vending Supply brand names. Products are non-toxic, hypoallergenic, use FDA certified colorants and comply with CSPC and ASTM requirements. All products exceed US, Canadian and EU safety standards. The company's products have a worldwide reputation for quality. Visit http://www.vendingsupply.com or call 800-315-9849 for more information.